A full-service small business marketing agency
We put our 25+ years of marketing experience from online and offline venues with social media marketing to deliver results to our small business clients...GUARANTEED.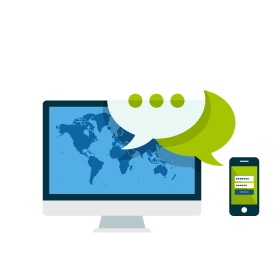 We pursue relationships based on transparency, persistence, mutual trust, and integrity with our employees, customers and other business partners.
Brad is a seasoned public relations and marketing pro with more than 25 years of experience both inside and outside of government dealing at the national and international level.  In addition to his work as a marketing consultant for small businesses, he has also written a monthly column on marketing for Florida Today on small business marketing.
He graduated with Academic Honors from the United States Air Force Academy and attended Georgetown University Law Center.  He has a Master of Science degree from Air University. He was an officer in the United States Air Force and completed all professional schools, to include the Air War College.
Some of the media outlets he has worked with include the New York Times, the Wall Street Journal, the Boston Globe. NBC News, Fox News, ABC, CBS, CNN, the BBC. AFP, UPI, AP, to name a few.
His clients/experience include:
Morgan Stanley Dean Witter

U.S. Air Force

National Guard Bureau

U.S. Food and Drug Administration

Fort Lauderdale Air Show

Running his own business
"Having worked both inside and outside of government and having run my own small business, I know what it is like for a small business owner trying to grow his or her business and do his or her business at the same time."
Brad's Comparative Advantage: YOU'RE THE QUINTESSENTIAL NETWORK-BUILDER.
"You love saying, "I know the person who can fix this and I'll make sure it gets fixed properly and quickly." You have a solid reputation with your entire network because you are a person of great integrity. People know that, whatever you promise, they can depend on you to deliver. Therefore they don't hesitate to stick their neck out to help you. If others let you down, you will call them on it, but you also believe that it won't happen again. This unshakeable belief in others keeps your network loyal to you."